The M.Eng. in Energy Systems program offers a multidisciplinary curriculum to prepare students for a wide variety of careers in the energy field. To round out your education, you are required to fulfill a professional development requirement via a practicum, a project, or coursework. The professional development requirement is aimed at developing the following skill set in the context of energy systems:
Leadership
Teamwork
Project development
Project management
Oral and written communication
Feasibility studies
Innovation and entrepreneurship
Engineering economics and business aspect of technology
Component or system-level conceptual design studies
Design and build activities
Experimental work
Detailed numerical simulations
Detailed theoretical analyses of physical systems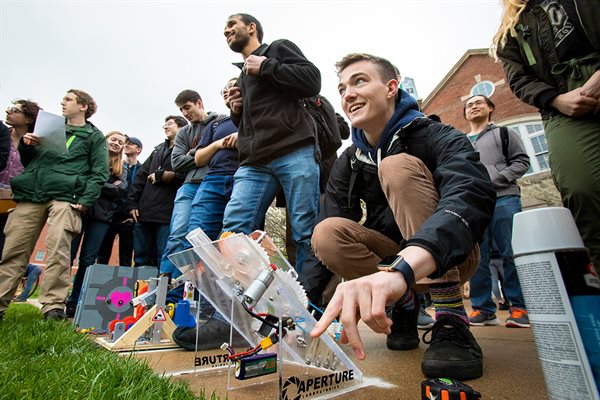 These skills form the backbone of a leader. While core engineering skills (near the bottom of this list) will be developed in other courses, skills near the top of this list are emphasized in the professional development requirement.
Approved Professional Development Coursework
Professional Development courses have been identified to satisfy the professional development requirements of the M.Eng. degree. One or more courses can be taken to fulfill the requirement. These do not require prior approval, but students are expected to communicate their plan to the program coordinator.
Professional Practicum
Practicum (or internship) opportunities are available by employers across various energy-related industry sectors.
Capstone Projects
Capstone Projects offer opportunities to integrate advanced technical knowledge in a real-world project experience sponsored by an industry client.
Careers
Graduates of the Energy Systems program are equipped with the technical expertise and global understanding of Energy Systems, professional skills essential for success in the marketplace, and the right combination of experiences to hit the ground running in their new careers. Our alumni have earned positions with:
AGCO Corporation
Aldridge Electric
Ampion
Bright Power, Inc.
Burns & McDonnell
CEE
CERL
CHA Consulting, Inc.
Conti Solar
DCI Engineers
Department of Navy
Eaton Corporation
EDF Renewables
Energy Exemplar
Environmental Systems Design, Inc.
Envista Forensics
ExxonMobil
First Solar
Gas Technology Institute
Graphet Data Mining
Heila Technologies
IHS Markit- Energy Solutions
Illinois Environmental Protection Agency
Integral Group
Invenergy
KPMG US
LevelTen Energy
MTU Onsite Energy
Northrop Grumman Innovation Systems
Organo
Palomar Solar
Ranger Power
Resilience at Horizons for Green Development (NGO)
Renewable Energy Systems Americas, Inc.
Sierra Club
Shure Incorporated
SunPower Corporation
Sterling Engineering
Sun Tribe Solar
TERI – The Energy and Resources Institute (India)
Tektronix (China)
thyssenkrupp Industrial Solutions Tesla (Germany)
Valdes Engineering Company
UIUC – Facilities
VividianSoft
Verizon Data Services (Global Visse Inc.)
Engineering + Management
Christopher Hillebrand pursued an Energy Systems degree in order to equip himself with the tools needed to play a part in the energy transition to come in the next few decades. He chose Illinois because he could tailor his curriculum and receive training on the soft skills needed to meet his career goals.
"I'd really like to be able to use my skills in both engineering and business (as I am also working on an MBA) and hopefully focus on identifying prime opportunities on a national or regional basis for profitable future development of solar and energy storage."
Christopher Hillebrand (M.Eng. 2019)